Mara River Lodge commands one of most spectacular views in the Serengeti- Mara ecosystem; the lodge lies on the Mara River at the edge of Maasai Mara Game Reserve and overlooks deep pools where crocodiles and hippos bask all day.  Guests are met by Maasai warriors in full regalia. The lodge is surrounded by indigenous trees and plants and it blends with the environment combining the best of nature. ­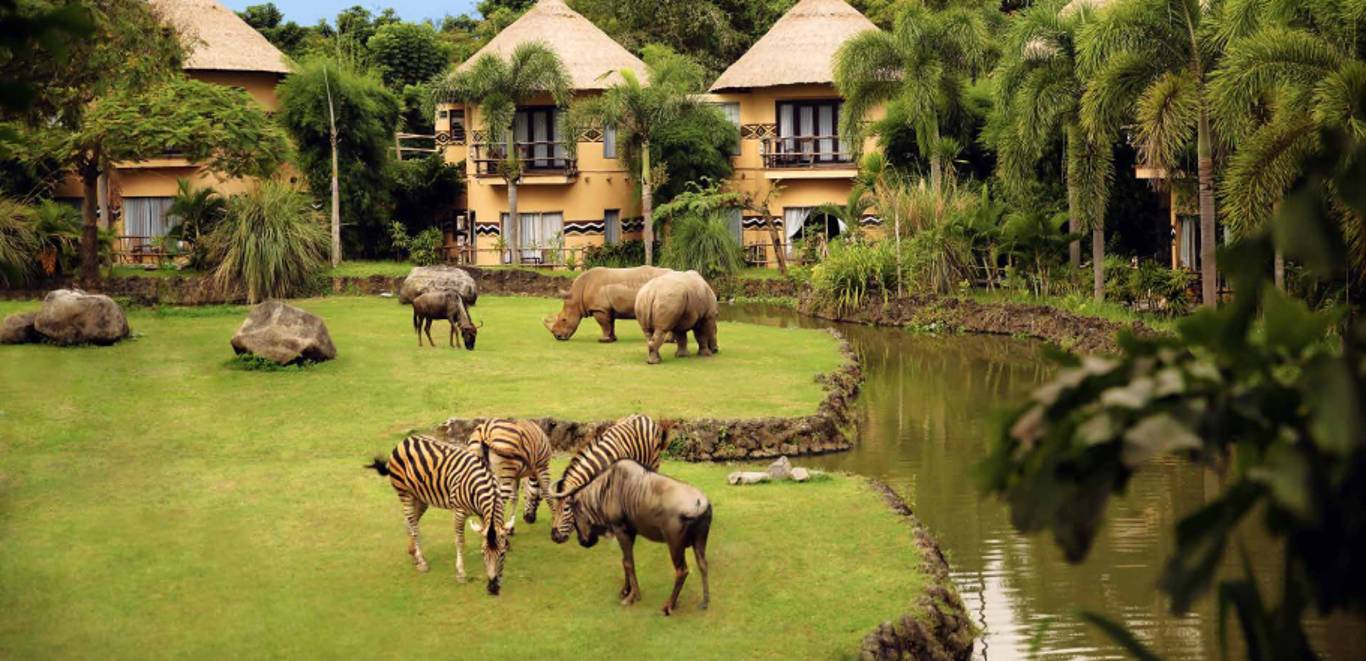 After a hot day's safari, your cosy room awaits providing you with a hot shower and comfortable bed with the finest in the Mara. Guests can see hippos across the river from their table as they sit down for the meals prepared by our international chefs. At all times, families of hippos spend their days basking in the deep pools below the bars and restaurant.
Mara River Lodge swimming pool, long stretch of gardens, river banks are all an ideal venue for weddings, receptions, cocktails, dinner parties, activity planning and more. The Mara River Lodge enjoys a one kilometre private river stretch on the banks of the famous Mara river. With spacious tranquil gardens that boasts of exotic plants and a seemingly endless array of flowers and blossoms
Accommodation and Meals 
Mara River Lodge has 78 en-suite rooms and two deluxe suites of two bedrooms each having views of the Mara River from the veranda. The rooms are decorated in vibrant Maasai colors with bright fabrics and rugs. Timber beams support the thatched roof
that keep the rooms warm in the cold Mara weather.
​
DINING- River Front Restaurant for both Al a carte and Buffet Service with Capacity for 160 people. The View Point Bar and rest area offers a spectacular view of the Mara river and the animals.
Guests at  Mara River Lodge can enjoy cocktails at the bar by the swimming pool or sit around the fire on the veranda watching the nightly game going to graze undisturbed on the plains … The famous Hippo Bar and Pool Side Terraces provide the most pleasant natural ambiance during the day for relaxing and soaking up the hot sun in friendly Kenyan atmosphere
Activities at The Mara River Lodge
Game drives over the savannah plains, Nature walks, Balloon Safari, Bush Breakfast & Bush Dinner,Private Dinners, Sunwdowner Cocktails, Team Building, Scenic Flights, Bird Walks
ACCESS:- Distance: 265 KM from Nairobi, By Air: 45 Mins from Nairobi, 2 Hrs from Mombasa

Airstrip: Mara Shikar & Mara North, 40 Minutes' drive to Musiara gate, By Road: 5 ½ Hours from Nairobi
SAMPLE SAFARI




3 Days 2 Nights Maasai Mara Air Safari to Mara River Lodge
Day 1. Maasai Mara – Depart Nairobi in the morning flight for Maasai mara afternoon game drive. Lunch, Dinner and overnight at Mara River Lodge
Day 2. Maasai Mara – Early morning and afternoon game drive. All meals and overnight at Mara River Lodge
Day 3. Departure – Early morning game, breakfast and depart to the airstrip for flight to Nairobi arriving at approximately 1200hrs. PRICE: $ 1,200 Per Person Sharing 
Social Share