Tortilis Camp is in Amboseli renowned  for its unrivalled views of Kilimanjaro and the local Elephant population. Tortilis Camp is named after the flat-topped, umbrella thorn tree, the Acacia Tortilis, and is situated in one of Amboseli's areas of Acacia Tortilis woodland, with the majestic backdrop of Africa's highest mountain, and the World's highest free-standing mountain, snow-capped Kilimanjaro.
Tortilis Camp is located 250 kilometers from Nairobi and about 45 minutes flight South East of Nairobi. The camp is located in a hillside setting, shaded by the natural forest of Acacia Tortilis Thorn Trees after which the Camp is named. Distance by road is approximate 4 Hours from Nairobi). Amboseli boasts magnificent views of mighty Mount Kilimanjaro, which lies on the other side of the border
Accommodation and Meals
Tortilis Camp has 17 spacious tents, all with elegant en-suite bathrooms with showers and modern flush toilets. Each tent leads from a bedroom with expansive king-size or generous twin beds, through a dressing area into modern bathrooms with pressured hot showers and flush toilets. Each tent is raised up on a wooden deck and sheltered by a makuti (thatched) roof overhanging a large verandah, ideal for an early afternoon siesta.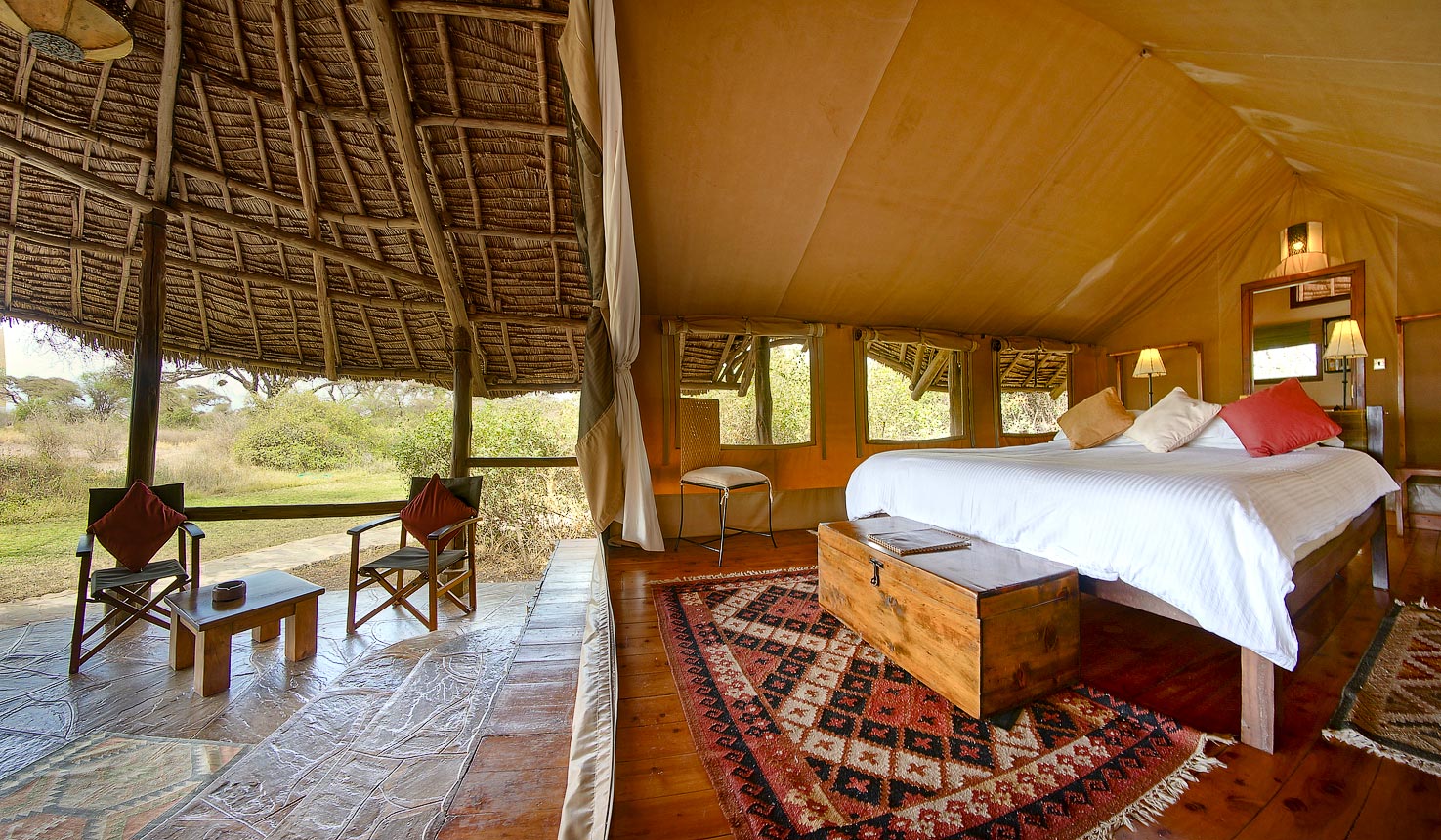 The tents Tortilis Camp are all large and spacious, with king or twin beds, elegant en suite bathrooms. From the comfort of your own private verandah, you can see for miles across the plains of Amboseli into Tanzania. Relax in the lounge and gaze at the awe-inspiring view of Africa's highest mountain: Kilimanjaro. Your tent is naturally screened by trees and shrubs from others. At night, the sounds of the bush lull you to sleep. Before evening drinks and dinner, enjoy the view from your tent verandah. Watch elephant families close by as they forage just outside camp. Guests sleep under canvas, but in style. Large comfortable beds, elegant bathrooms and a hot cup of tea at your bedside when you wake up.
There is a main lounge, bar and dining area, all exquisitely built with natural materials and thatched roofs, with magnificent views of Kilimanjaro.
Tortilis Camp just next  Amboseli National park prides itself in serving up its fresh homegrown salads and vegetables with every meal.
From lavish bush breakfast out in the middle of the plains, to fresh homemade pastas and breads at the camp, the Tortilis chefs excel themselves with every meal.
Tortilis Camp has a spacious dining room overlooking Mt Kilimanjaro, where guests eat at their own individual tables.
Closest Airport to Tortilis Camp
Amboseli Airstrip 9.0 KM
Closest Properties to Tortilis Camp
Amboseli Serena Lodge 9.75 KM
Ol Tukai Lodge 11.43 KM
Kilima Safari Camp 16.61 KM
Nyati Banda 21.66 KM
Kilimanjaro Guest House (KWS) 21.73 KM

Social Share